Sign Up
Go to www.konnectclub.com/business.
Click the button at the center of the screen. The button will show as 1 if you haven't already logged in with a Konnectclub user account credential. If you do not have a user account, you can sign up for one in the process.
After you log in, you will see the button will change to look like the 2 below.
Click on the Register Your Business button and provide some basic details about your business:
Business Type – if a business is registered with their state as well as if you have an Employer Identification Number (EIN) in US or a Business Number (BN) in Canada, you should use company, otherwise, use individual.
Legal business name must be the name the business has been originally registered with their state. If you have a different name (e.g. DBA or Doing Business As) that you use publicly for your business you'll be able to enter that for your business profile page later.
Business contact e-mail is where all your important account related communication will be sent, please make sure this is a well monitored address.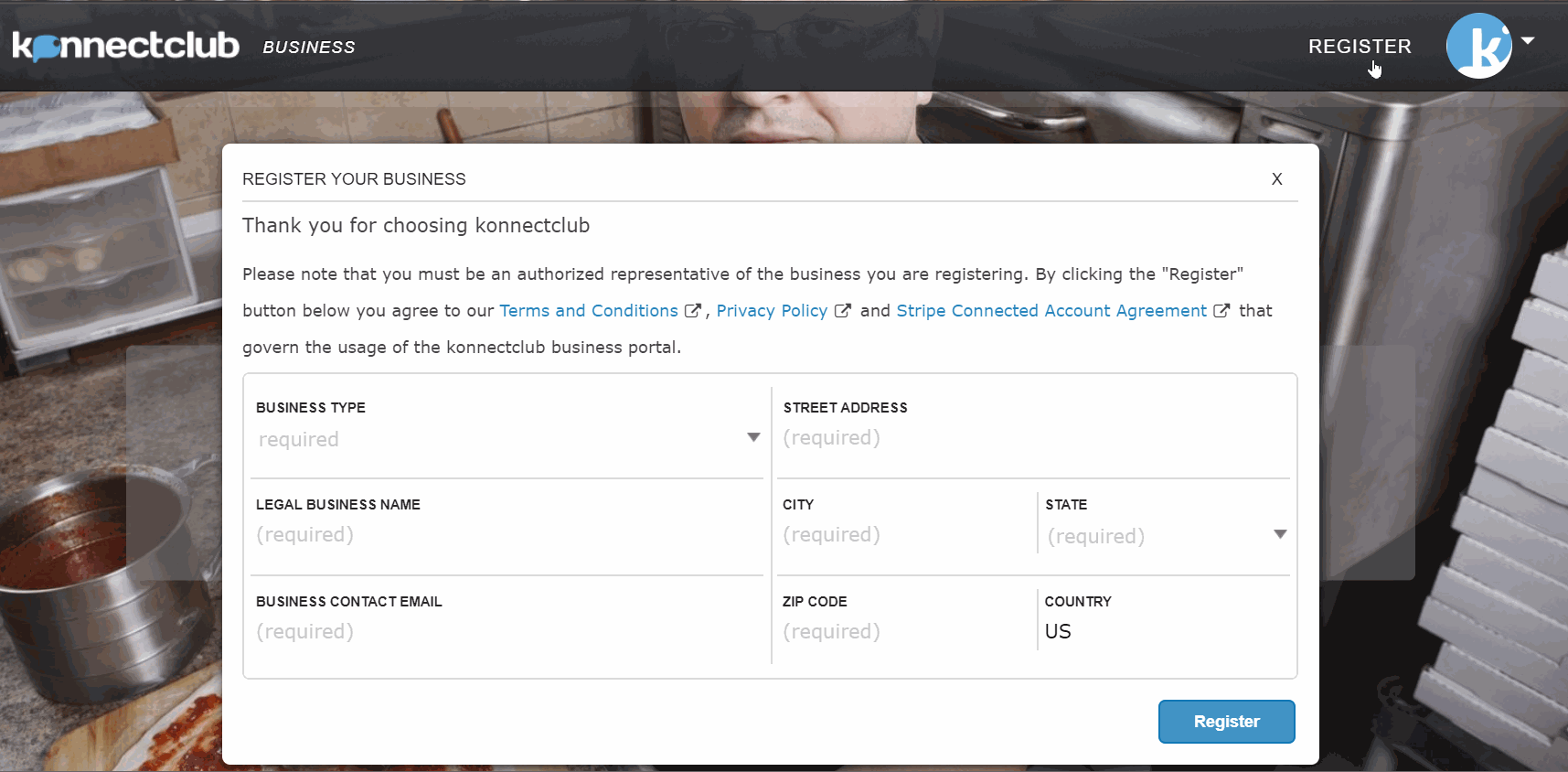 Register Additional Account
If you already have a business account, you can register a new one by clicking on the drop down arrow on the right hand corner of the homepage. From there you can click on switch business will allow you register a new business.
Provide Additional Business Information
While your business account has been created in the registration step, it is not yet ready to receive online payments until you fill in additional required account information. To access your business account settings, click Your Account from the the main menu.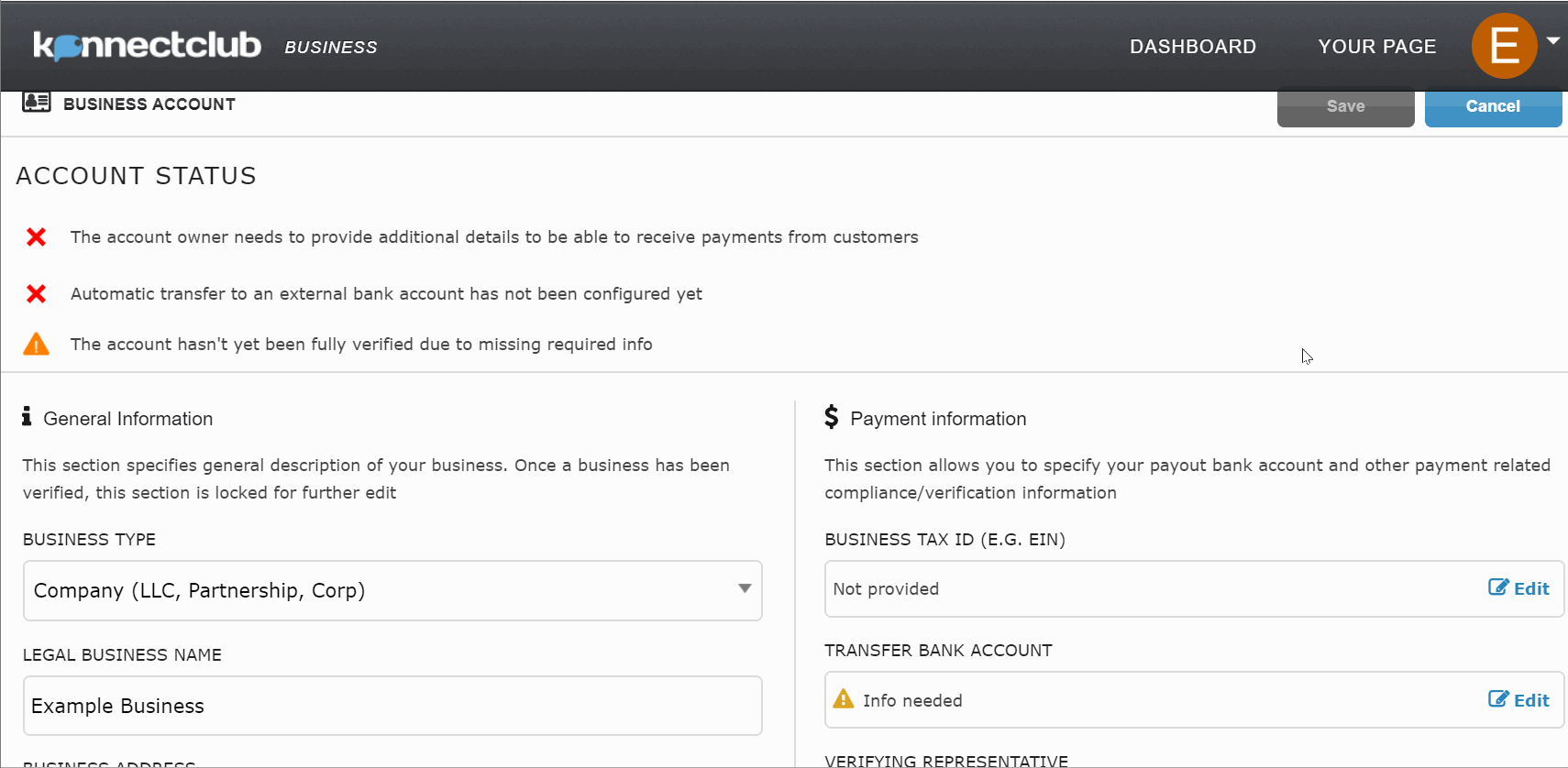 Address & Contact Info
You must provide a valid address (will be displayed on your customer's credit card statement), and any additional contact information for your business, such as, your website and phone. Make sure to provide accurate up-to-date information to avoid any delay in receiving account approval.
Statement Descriptor
This is a short text (2 – 10 characters only) for your business that will appear on your customer's card statement for any payment charge. Make sure to provide a unique and easily recognizable statement descriptor.
Bank Account Details
You will need to provide the details of your bank account where you want to receive pay-out from ticket sales. This must be an active US or Canadian (in USD currency) bank account matching the name of the business or individual.
For US accounts, you will be required to provide the Routing Number and the Account Number, both of which you can find on a check leaf of your account.
For Canadian accounts, you will be required to provide Transit Number, Institution Code and your Account Number.
All your information is collected and stored securely. Once submitted, only the last 4 digits of your bank account will be visible subsequently.
Verifying Representative
When you are registering a business account, one individual person needs to be recorded as the verifying representative of the account. Start editing this section only if you want to register yourself as the verifying representative. You can invite someone else to join the account and do this as well.
For identity verification purpose, your name, address, date-of-birth, phone number and last 4 digits of your SSN (US accounts only) must be provided.
If the system will be unable to verify your identity using this information, additional details such as your full SSN (US accounts only) and/or a scanned copy of an Identification document may be required subsequently.
All your personal information is collected and processed securely. Your SSN (either last-4 digits or the full) will not be visible to anyone else once submitted. 
For Company account, you will also need to provide your role in the company as a representative (you need to be either an Owner or a Director) and optionally your financial ownership of the company.
Beneficial Owners
If registering as a company (LLC, Partnerships, Corp), all individuals with 25% or more ownership of the company must be declared. For each owner, an ownership interest % must be declared as well.
Once all owners have been listed, please the 'All Added' switch to on to indicate completion.
Business Tax ID
Also known as an Employer Identification Number (EIN) in US and Business Number (BN) in Canada, is a unique nine-digit number used to identify the tax account of a business entity.
Payout Schedule
Konnectclub provides rolling payout of funds to your registered bank account after a holding period which is specified below by the chosen number of business days for each category of transactions. Lowering this holding period may limit your ability to process a refund if you do not have sufficient holding balance.
Event Transactions (e.g ticket sales, tips) are aggregated into lump sum payouts which are disbursed after specified number of days following each event.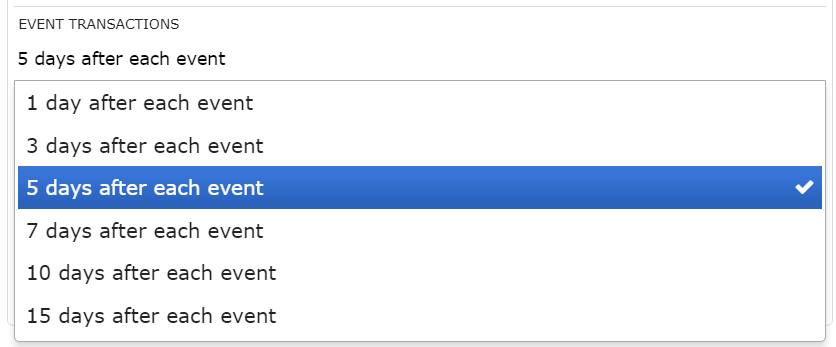 Sometimes your events may have additional revenue coming in after one or more disbursements have already happened. For example, you might be selling Video-On-Demand access for 30 (up to 365) days. In these cases, any additional revenue will be paid out on a daily rolling basis after a minimum number of holding period required per country (typically 2 days, but could be longer).
All other non-event transactions (e.g. a subscription payment) are paid out in daily aggregates after the specified number of days following their transaction date.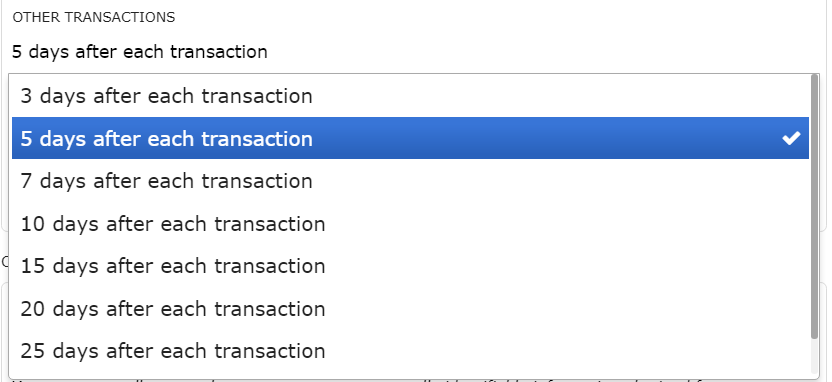 Customer Data Consent
If you wish to receive contact email information of each customer, your business must accept the indicated terms and conditions of handling customer data. The person accepting this will be doing so on behalf of the entire organization and for all other users who will have access to the business account.
Maintain Compliance
Once you have provided all required information, your account will be reviewed and verified by the system. This typically takes just a few seconds.
If there is any additional information required, you will see that on the status message on top of the screen. Fields that require additional information will also have an indicator on them, as below.

If everything is in order, the account status will turn all green.

In some rare cases, additional information may become required at a later time. This typically happens if the applicable laws and regulations have changed since the time your account was approved. If your account status changes and it needs further information, you will be notified by an email.